" Unbelievably, up to 70% of clean energy is exported to the grid with very little benefit to the producer  "
GSM Limited have a solution that automatically uses any surplus power to heat an immersion tank. We are able to provide these for customers who are looking at Solar Panels or for those homes that already have Solar Panels installed. GSM Limited cover Gloucestershire, Herefordshire and Worcestershire for all Renewable Energy solutions, so call us for more information today and start saving your money. Our Team can be reached on 01531 – 828 782. Installation is a simple process.
 How Does It Work?
Our Solar Immersion smart switch uses a clip on sensor on the incoming service grid lines. The clip on sensor can be attached anywhere before the consumer unit.
From the clip on sensor, the intelligent switch unit gets accurate information required to compute whether the power is imported or exported. Once the unit detects the power is exported, it calculates how much is being exported and dynamically adjusts the power diverting it to the immersion heater to keep the exported power to as near to zero as possible.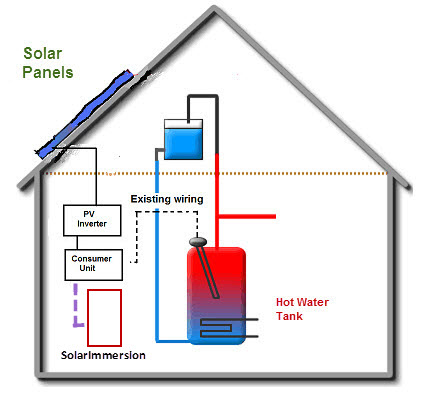 If the in house load increases e.g. when a kettle, washing machine or dish waster is used, it will reduce the power diverted to the immersion making sure only the excess power is used. When the in house usage decreases, even if only by a few Watts,  SolarImmersion will automatically increase the power to the immersion heater to use all the available surplus, rather than the excess going back to the grid.
This proportional control technology makes the SolarImmersion a highly efficient solar energy manager. It diverts even small amount of excess solar power to be saved as hot water and avoid the wastage as export power. This advanced switching technology enables the SolarImmersion to work efficiently with solar PV, wind or hydro micro-generation systems rated from 500W to 4 kW and more.
The unit also includes the boost function and manual override facility to give you full control on how the immersion is managed.
 How Much Does It Cost ?
The Smart Switch system costs £350.00 + VAT installed
---
GSM Limited provide advice and guidance on all energy products such as Solar Panels, Air Source Heat Pumps and Ground Source Heat Pumps across Gloucestershire, Herefordshire and Worcestershire, and the surrounding areas that include, Worcester, Droitwich, Tewkesbury, Cheltenham, Stroud, Dursley, Stonehouse ,The Forest of Dean, Cirencester, Newent, Hereford, Ross-on-Wye and Ledbury.